Dieter Roth, geboren 1930 in Hannover, gestorben 1998 in Basel, gilt als einer der experimentierfreudigsten und einflussreichsten Künstler des 20. Jahrhunderts. Beispielhaft für seine unbändige Lust am Experiment steht seine Grafik, die eine zentrale Position in seinem Werk einnimmt. Es entstanden Siebdrucke, Lithografien und Radierungen, in denen Roth das Medium Grafik weit über die bisherigen Grenzen hinaustrieb und wahre Meisterwerke schuf.
Seine Arbeiten finden sich unter anderen in den Sammlungen des Kunstmuseums Stuttgart, dem Kunsthaus Zürich, der Tate Collection, London, der Dieter Roth Foundation, Hamburg und des MOMA, New York.
Dieter Roth was born in 1930 in Hannover, Germany, and died in 1998 in Basel, Switzerland. He ranks among the most experimental and influential artists of the last century. Working in many techniques, printmaking and publishing might be considered the core of his production. With silkscreens, lithographs and etchings, Roth pushed the boundaries of the medium and created true masterworks, now prominently featured in important public collections: The Kunstmuseum Stuttgart, Germany, the Kunsthaus Zürich, Switzerland, the Tate Collection, London, Dieter Roth Foundation, Hamburg and MOMA, New York, among many others.
Düsseldorf, 1971
Siebdruck in 10-20 Farben auf weißem Karton von Schoellershammer, mit dem vollen Rand. Papier 73 × 102 cm. Aus einer Auflage von 120 signierten Unikaten, gedruckt bei Hartmut Kaminski in Düsseldorf und erschienen im Selbstverlag des Künstlers. Unten im äußersten Rand mit einem kleinen Einriss, das Papier minimal unfrisch im Randbereich. Rückseitig Reste alter Montierung. Insgesamt schön erhalten. Signiert und datiert. Dobke 158. EUR 3400,00
Düsseldorf, 1971
Silkscreen in 10-20 colors on white paper, the full sheet. Sheet 28 × 40 inches. One of 120 signed unique prints, printed by Hartmut Kaminski in Düsseldorf, published by Roth. A small tear in the outer margin, otherwise in good condition. Dobke 158. EUR 3400,00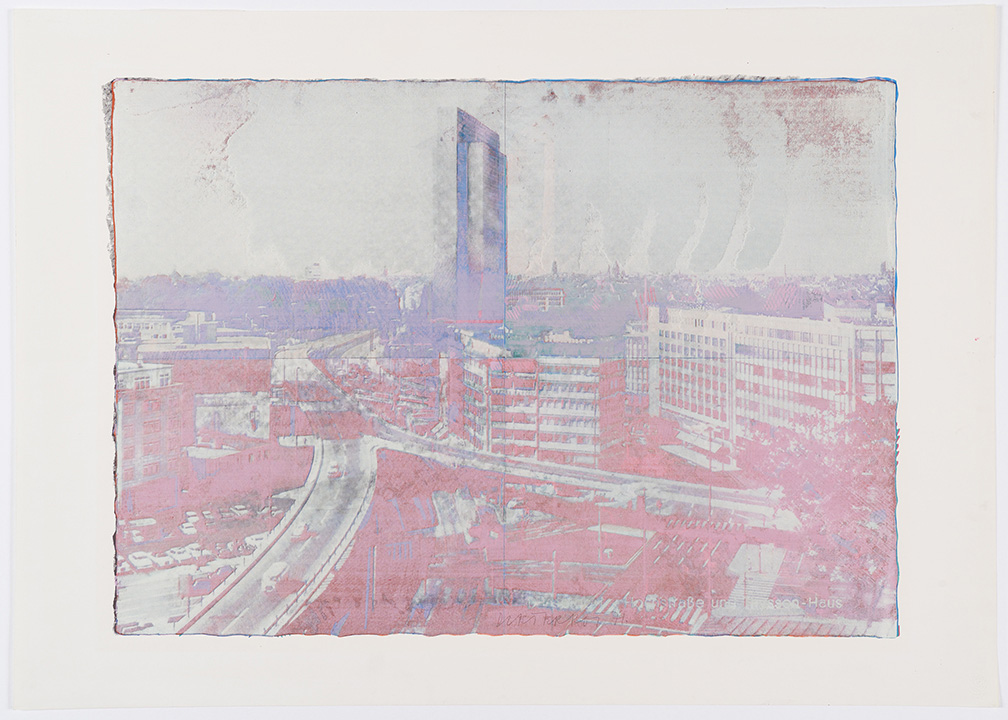 Tiefdruck, 1974/92
Kaltnadelradierung auf weißem Bütten. Platte 21 × 31,5 cm, Papier 40 × 51 cm.
Auflage 10 Exemplare als Tiefdruck, es existieren zudem 6 Exemplare , die als Hochdruck von der Platte abgenommen wurden. Vom Künstler nummeriert, datiert, signiert und mit ausführlichem Vermerk versehen. Erschienen in Dieter Roths Verlag, Basel. Sehr schön erhalten. Dobke 427. EUR 880,00
Tiefdruck, 1974/92
Etching on white rag paper. Plate 8,2 × 12,4 inches, Sheet 15,7 × 20 inches.
Published in 10 copies by Roth. Signed, numbered, dated and annotated by the artist. Very good condition. Dobke 427. EUR 880,00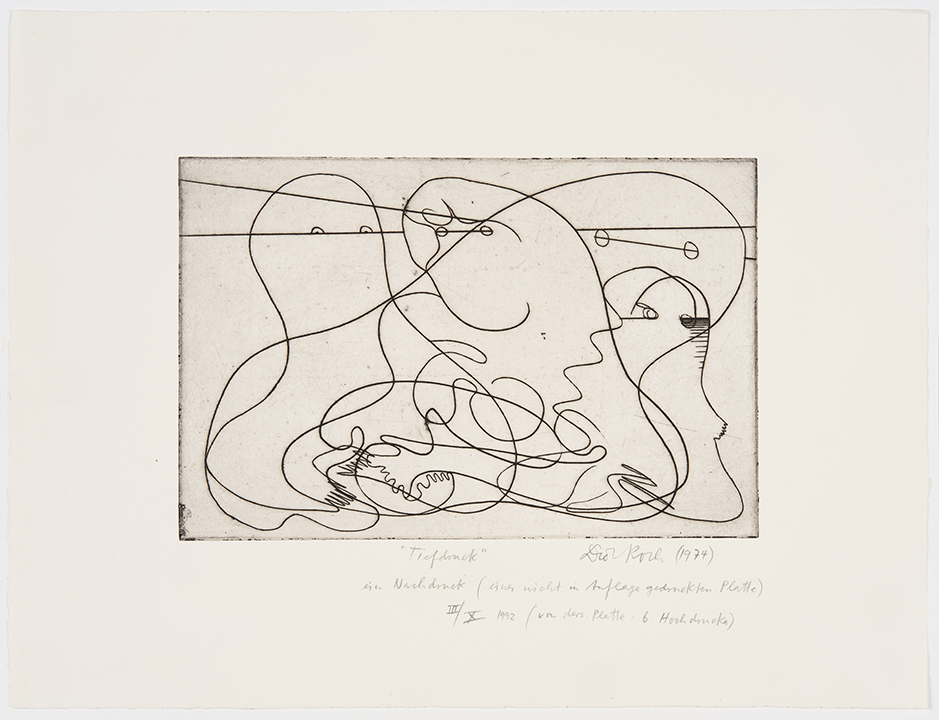 Selbstporträt, als Hundehauf in Stuttgart, 1973
Siebdruck in 11 Farben auf weißem Bütten. Papier 65 × 76,5 cm. Aus einer Auflage von 70 Unikaten, gedruckt von Frank Kicherer, Stuttgart. Signiert und datiert. Sehr schön erhalten. Dobke 273. EUR 1200,00
Selbstporträt, als Hundehauf in Stuttgart, 1973
Silkscreen in 11 colors on rag paper. Sheet 25,5 × 30 inches. One of 70 unique prints, printed by Frank Kicherer, Stuttgart. Signed and dated. Very fine condition. Dobke 273. EUR 1200,00